Patients come through your doors every day who need various procedures performed. Transferring them from one surface to another between services shouldn't be the most complicated, difficult part of that. At least, that's what we believe at Sloan Medical.
That's where the ezGLIDE® Disposable Patient Transfer Sheet comes in. It's a latex-free solution that is essential for the swift, safe moving of patients.
We know this is a daily task for medical professionals. ezGLIDE was designed for surgeons, by surgeons for peak usability. In fact, the medical transfer sheet addresses three of the top concerns of healthcare workers across the nation: ease of use, durability, and safety (sanitation).
We know that when researching a patient transfer option, those points are what matter most to frontline workers. See below for a recap of how ezGLIDE helps with all three.  And, if you are looking for tips on how to move a patient, check out this article from the National Library of Medicine. 
1: Ease of use
We know some of the worrisome questions you ask yourself when you have to move a patient.
"Do I have time to go find a slide board or hover mat?"
"Am I going to be able to move the patient to a new bed without a ton of help?"
"Did I properly clean the transfer board before putting it back?"
"Do I have room to store these big boards and all the required cleaning products?"
With ezGLIDE, it's right there in the name: easy. 
First, you don't have to worry about rounding up the troops and blowing out your back just to help move a patient to another bed. The transfer sheets allow for maximum mobility assistance so you can move a patient quickly—within seconds and without strain.
You also don't have to spend time searching for a slide board or hover mat, since the single-use sheets are simple to store and just one, lightweight sheet is all you need to complete a patient transfer.
And with ezGLIDE's single-use design, it will create more room in your storage areas since you won't have to store all the mandatory cleaning products traditional hard, bulky boards require.
2: Durability
We know what you're thinking. Is a disposable sheet really designed for durability? The answer is yes—you can fully replace your traditional medical transfer boards with single-use ezGLIDE sheets.
The latex-free design is as strong as it is simple. Once the ezGLIDE sheet is leveraged under a patient, moving them from their original location to the next destination is swift—a fast, clean slide that is completed in just seconds.
The sheet is designed so that it can remain under the patient—no matter their size and shape—as long as needed, or it can be pulled out from under them just as easily, and then discarded.
The patient is set and ready to receive care, and you're ready to move on to whatever is next in your busy day.
3: Safety
Last but not least, when it comes to patient shifters is the safety of both you and your patients. Staying clean and dry is at the top of the list with ezGLIDE, but there are a number of other safety perks to take into account:
Safe for YOU:
ezGLIDE is designed to reduce back strain, so you don't have to worry about injuring yourself while moving a patient to another surface.
ezGLIDE is sterile and disposable, so you don't have to worry about cleaning a transfer board properly or keeping up with all the required cleaning supplies.
ezGLIDE is meant to stop the spread of infectious diseases, so you can do your job with the level of safety and security you deserve. 
Safe for YOUR PATIENTS:
Patients can remain calm during transfers knowing that their healthcare providers are using a safe piece of equipment.
Because of its thin, barely there design, patients can remain comfortable during a bed transfer—no hard, stiff boards here.
With its single-use design, patients can remain protected from the threat of fluid leaks and the spread of infectious diseases.
Speaking of reducing the risk of infectious diseases, Sloan Medical created a revolutionary shoe cover to keep frontline workers especially safe from the knee down. You can explore more about the piece of PPE that everyone is talking about here.
While ease of use, durability, and safety are critical factors in selecting medical slide boards for your healthcare facility, we know another factor to consider is cost. You can review and compare costs in the helpful chart below.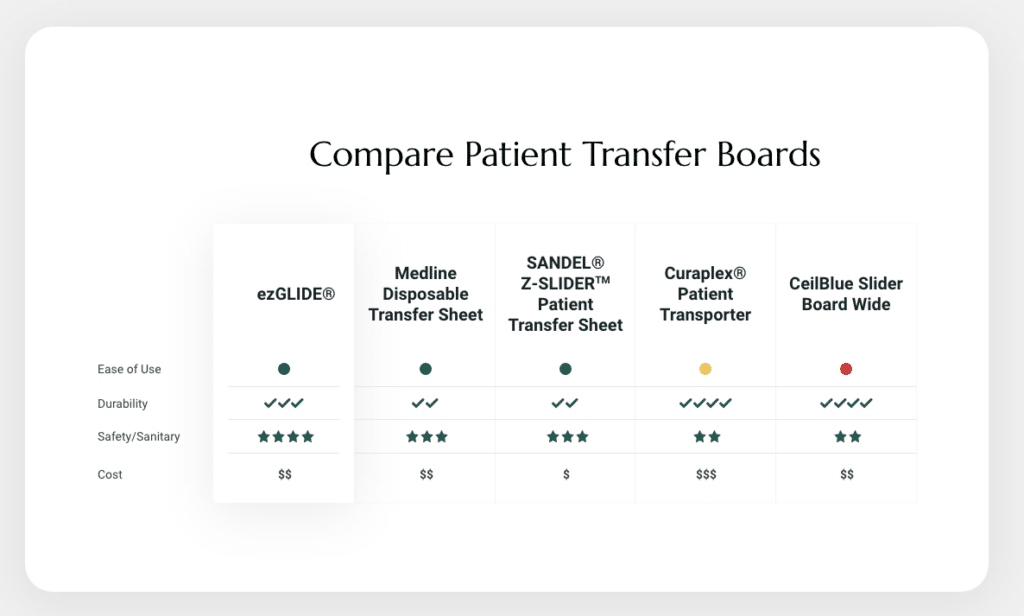 We know finding the best patient transfer board matters to you, which is why we're proud to say there is a simpler and safer way to move patients. Click to get your free sample of ezGLIDE transfer sheets and experience the difference yourself.